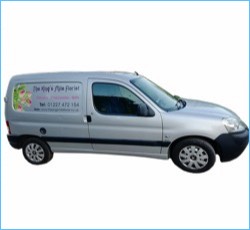 Order online or over the phone, and your flowers will be delivered as requested in our clearly liveried van to the address you choose.

We are a local florist and deliver within the Canterbury area including many of the surrounding towns and villages within approx a 7 mile radius.

Click to view our Delivery Area Map and buy online. Alternatively, just give us a call, tell us the address required and we will advise.
Need some help and advice choosing colour schemes or display options?

Whatever your need, we are here to help, and our many years of experience will enable us to give you sound advice and maybe some fresh ideas.

You could also take a look at our photo-galleries, find something that suits and we can use that as a starting point.

Please call on 01227 472154
or use our Contact Form.
We offer online purchases for

~ Hand Tied Roses ~
~ Mixed Arrangements ~
~ Hand Tied Arrangements ~
~ Small Arrangements in Vase ~

Click the image or link to Buy Online

We recommend that Wedding, With Sympathy and Corporate flowers be ordered by phone on 01227 472154 along with any orders that require very specific flowers.
Our reputation is built on our service, attention to detail, and understanding individual customers needs. Some of our customers are floral experts who know exactly what they want and trust us to deliver! Other customers freely admit they don't know their gerberas from their roses and leave it to us to to create a display that perfectly suits their needs.